Zfone and its innovative encryption technology sets the standard for securing VoIP phone calls. Zfone lets you whisper in someone's ear from a thousand miles away.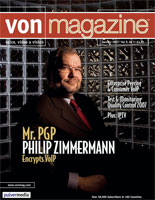 Zfone™ is a new secure VoIP phone software product which lets you make encrypted phone calls over the Internet. Its principal designer is Phil Zimmermann, the creator of PGP, the most widely used email encryption software in the world. Zfone uses a new protocol called ZRTP, which has a better architecture than the other approaches to secure VoIP.
Doesn't depend on signaling protocols, PKI, or any servers at all. Key negotiations are purely peer-to-peer through the media stream
Interoperates with any SIP/RTP phone, auto-detects if encryption is supported by other endpoint
Available as a "plugin" for existing soft VoIP clients, effectively converting them into secure phones
Available as an SDK for developers to integrate into their VoIP applications
IETF has published the protocol spec as RFC 6189, and source code is published
On the cover of VON (Voice On the Net) magazine.